Thank you to delegates, speakers, exhibitors, our sponsor and everyone else involved in a productive Conference 2023.Save the date for next year's UKROEd and NPCC Roads Policing Conference:
Wednesday 9 and Thursday 10 October 2024
Our 2023 speakers
Sarah joined Greater Manchester as their second Active Travel Commissioner after three years working in South Yorkshire. She is also a non-executive director at the Department for Transport, helping them understand the way we all travel. As well as being an everyday cyclist, Sarah is a mum of two who walks and cycles with her children regularly.Accessibility has been a key theme of all of her work so far and she wants to make sure that we design all of our infrastructure so that it is inclusive and leaves nobody out. A key priority for Sarah will be Refreshing Greater Manchester's Active Travel Mission, which she launched in November 2022.
Jo Shiner is the Chief Constable of Sussex Police. She became the force's ninth Chief Constable in July 2020 and is the first female Chief Constable in the history of Sussex Police. Jo started her policing career in Norfolk in 1993, serving up to the rank of Chief Superintendent. She then transferred on promotion to Kent as Assistant Chief Constable in 2014. Jo joined Sussex Police in late 2018 as Deputy Chief Constable.Throughout her career she has been committed to taking a preventative and proactive approach to policing – always working closely with partners. Her strong belief is that there are very few circumstances where policing alone is the answer.
Jo became National Police Chiefs' Council lead for Roads Policing in June 2021. She has always held a firm view that effective policing of our roads will reduce crime and save lives. Jo's lived experience of losing her father in a road traffic collision when she was just a teenager gives her a strong and passionate voice when advocating for roads safety.
As General Secretary of TISPOL, the European Roads Policing Network, Ruth worked with European governments, senior police officers and road safety experts to deliver a co-ordinated approach to road safety across Europe.Her policing career spanned 33 years to the rank of Assistant Chief Constable. Working for the College of Policing, Ruth was the lead facilitator in developing the Strategic Command Course – Operational Delivery Module and assessment process 2015–2019.
Ruth is skilled in crisis management, coaching, assessment, government, emergency management and law enforcement. She holds a first class honours degree in Management and was awarded an OBE in 2021 for services to Policing and Road Safety.
Sophie Morgan is an award winning disability advocate, TV presenter & social entrepreneur. After being paralysed in a car crash when she was 18 years old, she is one of the only television presenters with a disability in the world.Voted as one of the Top 10 most influential people with a disability in the UK, she is determined to channel her adversity into opportunity and she sees her challenges as a unique chance for
creativity and has become the ultimate agent for change.
She fronts the live coverage of all Paralympic sport for Channel 4 and makes award winning current affairs documentaries, travel programs and consumer affairs shows including Dispatches and Unreported World. Sophie is also a board member for Ofcom, the UK government approved regulatory broadcast authority.
She also established Sophie Morgan Creative Ltd and is leading the charge to better representation for disabled people in retail, travel and design consulting for large retailers such as Target Corporation, John Lewis & Waitrose. She has a wealth of live events experience including hosting Global Disability Summits alongside working with global brands such as Air BnB, Toyota, CanAm and GoPro.
She is a proud patron of Scope & Back Up, Global Ambassador for Womens Rights and Inclusive Education for Leonard Cheshire, and on the Special Advisory Committee for Human Rights Watch.
Alongside her broadcast career, Sophie is passionate about adventure and Art. Having graduated with a degree in Fine Art from Goldsmiths university, she has been exhibiting her award winning artwork for over a decade. She owns company LoveLines, specialising in unique & personal bespoke line drawings and is also a portrait artist, creating original art works and limited edition prints.
Originally from Sussex, Sophie now lives in South East London.
Richard Holden was appointed Parliamentary Under Secretary of State at the Department for Transport on 28 October 2022. He was elected as the MP for North West Durham in 2019.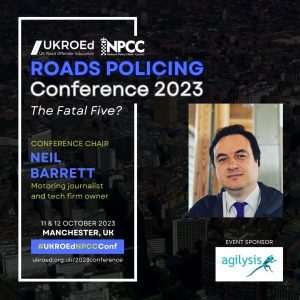 Neil has run Enbecom, a IT consulting firm specialising in web technology, for over 20 years. He has also worked extensively with law enforcement in the UK and abroad, including spending well over a decade with the European Roads Policing Network. Neil spent summer 2023 on an epic 5,500 mile road trip across 9 countries to the top of mainland Europe, producing blogs and video to explore how "mainstream" and cost-effective electric vehicles and infrastructure have become across Scandinavia and beyond.He also writes on vehicle technology and the future of mobility for Good Motoring magazine. He is a highly experienced presenter, chair and moderator, with a true passion for reducing the number of people killed and injured on our roads.
Jenny is a project manager at ETSC, responsible for the PIN (Road Safety Performance Index) programme. She joined ETSC in 2020 and has worked on European policy since 2000. She was previously at the East of England regional office in Brussels. She holds a BA (Hons) in Modern Languages and European Studies from the University of Bath (UK).
TRL's Chief Scientist for Behavioural Sciences. An applied cognitive and experimental psychologist with over two decades' experience in road safety, road user behaviour, and human-technology integration. Shaun's specific research focuses on the safety of young and newly qualified drivers, vulnerable road user safety (especially visibility and conspicuity) and work-related road safety. More generally, his research and commentary focus on raising the standards of evaluation and evidence in the transport domain, especially road safety but including research into automated driving technologies, low-emission vehicles, and the emergence of new models of the movement of people and goods such as shared mobility.Shaun has a track record of delivering projects that impact directly on government policy and advice to road users, including many of the changes in the last decade to driver testing and licensing in Great Britain. He has authored over 150 journal articles and customer reports since 2002 and has presented at numerous national and international conferences on road safety and other transport issues. He represents TRL at the Parliamentary Advisory Council for Transport Safety, and acts as a reviewer for several scientific journals and grant bodies.
Kyle has been a police officer for almost 30 years, having commenced his service in Northern Ireland with the Royal Ulster Constabulary GC back in the 1990's. After spending over 2 decades in the province he moved to the mainland and has since served with a number of other forces. Kyle spent 3 years as the Commander in the Metropolitan Police Service in charge of Uniformed Operations incorporating Specialist Firearms, Taskforce and Roads Policing. He is now back in frontline policing as the Commander in charge of North and East London and holds responsibility for emergency response policing across the Capital.Having spent a lot of his career in uniformed specialisms such as Firearms and Public Order, in 2020 when Kyle became the UK lead for Roads Policing's Operations, Intelligence and Investigations (NRPOII) he immediately realised it was seen by some as the 'poor cousin' and he set about trying to raise the profile and currency of Roads Policing right across the UK by bringing across some of the most established practices from these other specialisms, including challenging attitudes to demonstrate that Roads Policing is not a bespoke niche discipline but is right at the heart of keeping our communities safe from harm.
Gemma is a Professor of applied cognitive psychology at the Open University, with expertise in driver distraction. Her research investigates the attentional and perceptual issues caused by hands-free phone use, along with approaches to education to discourage the behaviour. Gemma has worked extensively with road safety professionals, policing partners and policymakers to share findings and promote evidence-based practice. Gemma is currently leading the project 'We need to talk about handsfree', funded by the Road Safety Trust. This work focuses on the interactions between police officers and mobile phone offenders, with the aim of sharing education with officers and offenders on the dangers of hands-free phone use. Gemma is also leading a DfT funded project investigating the potential benefits of mixed reality road safety interventions.
Leanne is a Senior Lecturer in Policing at Staffordshire University with an academic and research background in roads policing and road safety, approaching these from a psychological and criminological perspective. Leanne's PhD research was jointly funded by the Office of the Police and Crime Commissioner for Staffordshire and Keele University, and centred around a road safety education course being delivered by Staffordshire Police exploring the role of driver education in tackling mobile phone use by drivers and resistance to its prohibition. She has since led and worked on research projects concerning mobile phone use while driving, Community Speed Watch, and understanding the needs of road victims.
Helen is a Senior Lecturer in Criminology at Keele University, where she leads the Roads Policing Research Group. She specialises in research on roads policing, and has worked with the Department for Transport, Home Office, NPCC, National Highways, the MIB and many local police forces, exploring topics including speeding, distraction, drink and drug driving, intelligence-led roads policing, diversion courses, ANPR, dash cam submissions and uninsured driving. Helen is director of the Roads Policing Academic Network (an international network of over 215 academics and practitioners with interests in roads policing).Prior to her current Road Safety Trust project on dash cam and helmet cam evidence in roads policing, Dr Wells was Principle Investigator on RST funded project focusing on the prevention of mobile phone use by drivers, known as Mobile:Engaged.
Helen is the Academic Subject Matter Expert for National Roads Policing Intelligence and Investigation (NRPOII) as part of the NPCC Roads Policing portfolio, and sat on the Advisory Panels for the Parliamentary Advisory Council for Transport Safety review of roads policing, and the Police Foundation report on roads policing. She also sits on the Governance Board of the joint Home Office/DfT Roads Policing Review.
Dr Adam Snow is a lecturer in the Law School at Liverpool John Moores University and teaches in the area of criminal law. He obtained his PhD from Keele University in 2015 where he examined the use of out-of-court disposals. The study was funded by the Magistrates' Association and Keele University and examined the use of on the spot fines/penalties for a variety of illegal behaviour, including; parking, speeding, illegal motoring, littering and minor disorder. Since obtaining his PhD he have conducted a number of research projects for organisations in the field of road traffic regulation including the British Parking Association, the Traffic Penalty Tribunal, PATROL, and the RAC Foundation. His research interests focus on how the law regulates ordinary behaviour in complex systems, principally relating to road traffic regulation.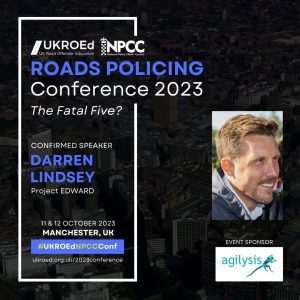 Until 2021 Darren Lindsey was Michelin's Vice President Public and Governmental Affairs for Europe, the Middle East and Africa. He developed and deployed strategic relationships and policy across 70 countries to influence commercial companies, government department and NGOs. For the past two years he has led the development of the Project EDWARD (Every Day Without A Road Death) initiative. This involves building and maintaining relationships with government, policy makers, the emergency services, Police and Crime Commissioners and the private sector to shape EDWARD's long-term future, in the UK and further afield.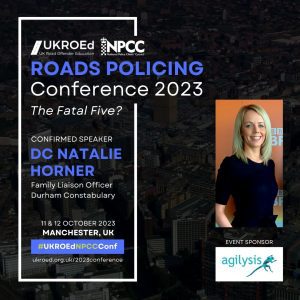 I feel policing is all I know, having first joined Durham Constabulary as a police cadet in 1996! Once old enough to officially become a police officer I spent time on response before moving into CID. My passion was being a detective and I thought this is where I would always stay. During my early years I trained as a family liaison officer and thoroughly enjoyed being deployed into families during the most horrific time of their lives. I used to thrive knowing I was helping people through their trauma. Eight years ago, I got an opportunity to move into the newly formed Serious Collision Investigation Unit and I have never looked back. Being able to use my CID experience incorporated with the skills from family liaison this is a 100% where I love to be. I have found my inner passion for road safety and will take every opportunity I can to educate others in making our roads safer.